Telč Castle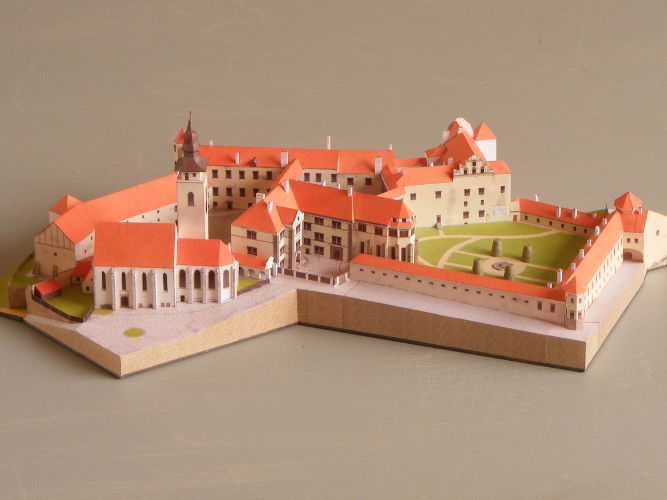 This is a paper model kit published by Betexa in their series "Castles and Chateaux in the Czech Republic" ("Hrady a Zámky České Republiky"). The castle was originally defensive, in Gothic style and built in the 14th century, but was rebuilt in the 16th century Renaissance style, more as a nobleman's grand house than a castle. The model comes as a perfect-bound booklet 220x320mm containing
a cover sheet with one large and two small colour photographs of the finished model on one side, and a number of assembly line drawings on the other,
24 sheets of model parts,
3 sheets of paper making 6 pages of assembly instructions in three languages: Czech, German and English.
In the instructions it says that it was intended to be the first of several models covering the whole of the historical centre of the town of Telč. However, it was published in 2007 and 11 years later there has still been no sign of any follow-up. Indeed, even this model seems no longer to be listed on the Betexa web site.
The model is to scale 1:200, and is built in three sections, working from west to east. There are 99 parts in block A, 65 in block B and 177 in block C. Together with 45 chimneys listed separately, this makes 386 parts in all.
For my model, I scanned the pages and reduced them to a third, making the scale 1:600.