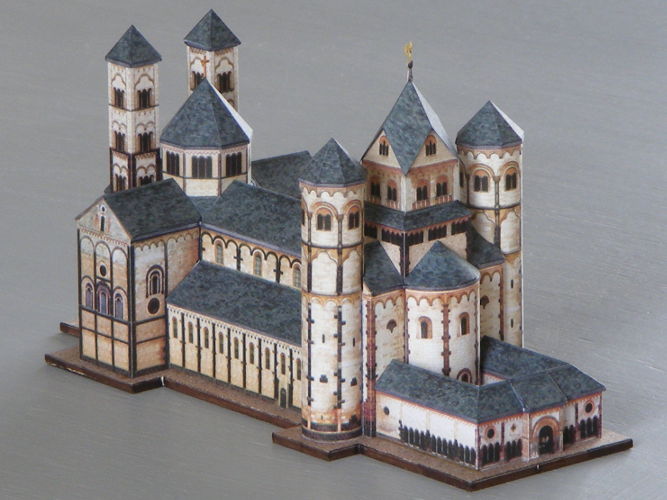 This is a paper model kit published by Schreiber. It comes as a shrink-wrapped pack of sheets, 220mm by 320mm:
a cover sheet with a large colour photograph of the finished model and a smaller one of the original building on one side. The other side contains assembly diagrams for the model.
one double-size sheet, centre folded. One half contains the model base and several internal formers, to be laminated on 1mm thick card, the other has wall parts for the model. The reverse side has a description of the monastery and its church in particular, in German and (somewhat abridges) in English.
a second double-size sheet of model parts, including further formers to be laminated to card.
a third sheet of parts, part of which is taken up with the assembly instructions in German. The reverse side contains the assembly instructions in English, together with some simple drawings indicating paper modelling techniques in general.
two sheets of 1mm cardboard for lamination.
The model is in scale 1:300, and is quite small - the baseplate is approximately 280x120mm. The parts are organised into groups 1 to 26, with letter suffixes within each group. There are approximately 70 parts, so it is a quite simple model.
For my model, I scanned the pages and reduced them by 50%, making it approximately 140mm wide by 60 mm deep by 80mm high. This meant that I couldn't use the supplied strengthening cardboard, so had to provide my own 0.5mm thick.
There was very little problem with the model. I added several extra formers, particularly for the towers, and redrew one part (the conical roof of the western apse) which I couldn't get to fit otherwise - probably my fault rather than the designer's.
Finished Model