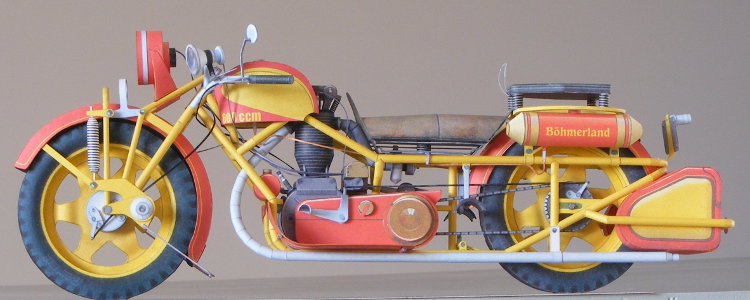 Albin Liebisch ran an engineering workshop in the Bohemian village of Krázná Lípa, among other things repairing motorcycles. In the early 1920s he designed and built his own vehicle, offering it for sale first in 1924, under the name "Čechie-Böhmerland" (being the Czech and German names for Bohemia). It was a very unconventional machine, not least because of its great length (well over 3 metres). It was intended for family touring, and could seat two on the main saddle plus a third perched high over the rear wheel. A sidecar could also be fitted, to carry two more passengers. Production ceased in 1939.
The model was designed by Milan Novobilský and published in ABC magazine in 2005. It is to the scale 1:16, so I enlarged it by 14% to 1:14. The printed model does not include parts for the frame, suggesting the use of wooden skewers cut and reassembled according to templates and full-size drawings. I chose to design and use paper tubes instead, as I did also for the exhaust pipe, front forks and springs.
For comparison, here it is with a large modern bike (Yamaha VMAX) built to the same scale.