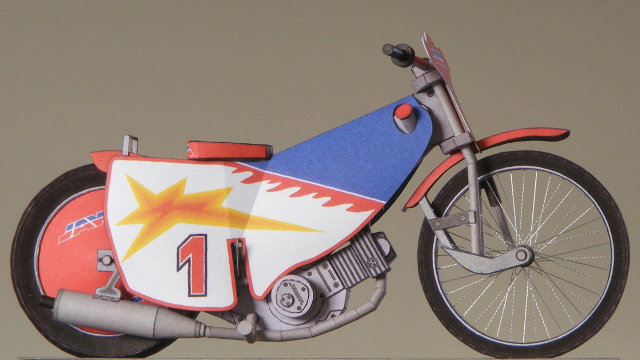 Jawa was formed in 1929 when František Janeček took over the motorcycle interests of the German company Wanderer - the name combines JAneček and WAnderer. It went on to become the major motorcycle manufacturer in Czechoslovakia, making the whole range of motorcycles including competition models, particularly for speedway, dirt track and ice racing. In recent years, the speedway business has been made into a separate, successful, company, while consumer motorcycle manufacture has struggled.
A speedway bike is very specialised machine, built solely for negotiating a short oval dirt track at high speed, and only ever turning left. Race regulations limit designs severely - the engine must be single-cylinder four-stroke running on methanol fuel, there must be just one gear and no brakes. Other characteristics include a large footrest doubling as a stand on the right-hand side, but only a tiny rest on the left, as the left foot mostly slides on the ground through the bends. The rear wheel usually has a cover over the right-hand spokes to protect the chain drive from dirt thrown up by other competitors, and the rest of the bike is protected by a soft cover.
The model was published in 2006. It is scaled 1:15, so I enlarged it by 7% to 1:14. The drawing is much finer than that found in earlier models, and is generally more accurate, though I did have to adjust a few parts. As usual there were also parts to be made from wood and wire, which I mostly made from rolled paper. Also as usual, the wheels are slab-sided, with spokes printed on - I provided proper spokes and a more "rounded" rear tyre.