Louis Lopez (Loudog)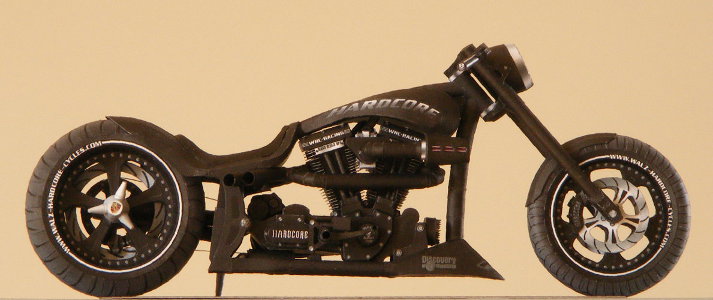 Louis was (is?) a member of the PaperModelers.com forum, and designed this superb model in 2009/2010. The original is a one-off special built by the German motorcycle constructor Marcus Walz. It was built as an entry for a television competition programme "Biker Build-Off", and named after the 1000 mile journey across the United States needed to deliver the bike to the contest location.
The kit is a PDF file with 24 pages of parts, and a separate 65-page(!) set of graphical instructions. It can be found here in 9 different colours or a lines only version. The original was painted very dark grey, so this was the version I chose, though some of the wild colours were quite tempting.
The scale is approximately 1:5.5 (like the large "Ultra-Realistic" Yamaha models) giving a model 18"x6"x7" (450mm x 150mm x 175mm). I printed everything off at 39% to give me 1:14. The model was superbly designed, and gave very little trouble, beyond what you would expect for such high detail at a small scale.