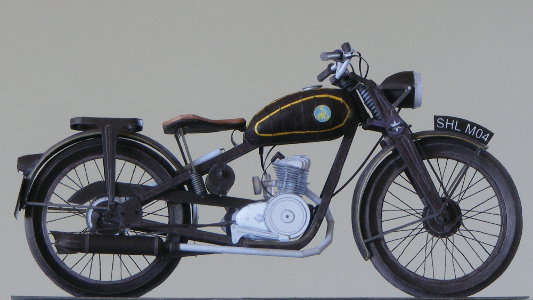 In 1938 the Ludwików Ironworks made its first motorcycle design, which used a 98cc Villiers engine, and was called the SHL 98. "SHL" stood for "Suchedniowska Huta Ludwików" (Ludwików Ironworks of Suchedniów). Production ceased during the German occupation, but restarted in 1947 with a new model, the SHL 125 - M02. This used a copy of the German 125cc RT125 engine, but was otherwise very similar to the prewar bike. Improvements led to the M03 model in 1948, and the M04 in 1949. The M04 continued in production until 1954, though production moved to Warsaw in 1951.
The kit is an A4 stapled booklet, and contains 6 pages of model parts, 3 on thin card and 3 on paper, for laminating on thicker card. There are also 4 pages of instructions in Polish and 4 pages of diagrams including two complete and full-sized side views. The front cover has a colour painting of the prototype, and the back cover has five photographs of a substantially enhanced finished model.
The scale is given as 1:9 so I reprinted the sheets at 64% to give me 1:14. A number of parts are meant to be produced from bent "wire" up to 3mm in diameter. I replaced these with rolled paper tubes or cutout card strips, but otherwise built the model as supplied. The instructions I scanned, passed through an OCR reader, and presented the result to Google Translate to achieve something approximating to English.
Construction was quite difficult, not helped by a good number of discrepancies between the instructions, diagrams and parts pages, albeit mostly minor. Several adjustments for fit had to be made - notably the saddle top, which was much too large, and the exhaust pipe, whose template (for wire bending) was too small. An interesting build, though, and reasonably successful in the end.