Laurin & Klement Typ E, 1907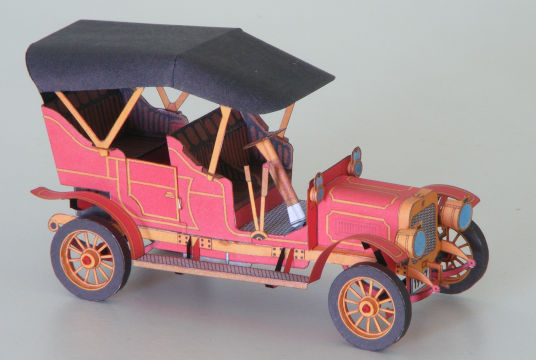 Laurin & Klement was founded in 1895 in Mladá Boleslav, Bohemia by Václav Laurin and Václav Klement. It initially made bicycles, then motorcycles and finally in 1905 it made its first motor car, the Typ A. The Typ E was introduced in 1906. The firm was acquired by Škoda Works in 1925 and became Škoda Auto.
The model was designed by Michal Antonický and first published by ABC in 2001. It was subsequently reissued by Pressfoto in Prague, and this is the version I have.
The original scale in ABC magazine was 1:32, but the reissue enlarged that to 1:24, apparently without any other changes. I have chosen to revert to 1:32, for consistency with my other ABC car models. The model is very cleanly drawn and presented few challenges, but I did modify the wheels, which are supplied as slab-sided discs with spoke detail just printed on.