Mercedes Simplex, 1902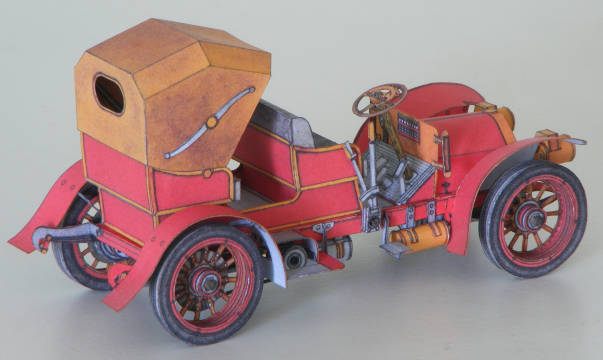 This was the first production car produced by Daimler Motoren Gesellschaft, based on the Mercedes 35hp designed for the motor race driver Emil Jellinek in 1901. Jellinek was also DMG's sales agent in France, and ordered a large number of the cars to sell in France. The intention was to brand them as Daimler-Mercedes, the latter name after Jellinek's racing team. However it was realised that the name "Daimler" was already licenced to Panhard & Levassor for use in France, so the name became simply "Mercedes". The Simplex model was produced from 1902 until 1909.
The model was designed by Richard Vyškovský and published by ABC in 2005.
The scale is 1:32, which makes the model approximately 130mm long. It is drawn in Vyškovský's typical slightly cartoonish style, but is quite pleasing. A fair amount of work was required to achieve a reasonable fit in some areas, and there are several inconsistencies between the instructions and parts sheets, which caused some head-scratching.