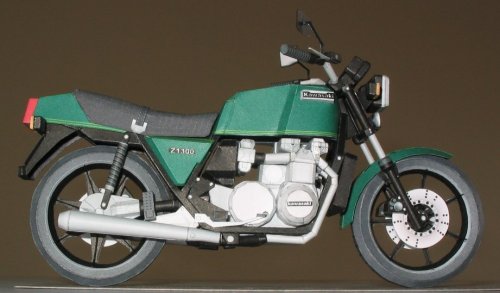 This is a second free motorcycle kit published on the web by Kozin. It consists of:
an 18-page PDF file of parts with one page each for a red and a green version, and 16 common to both,
a 15-page PDF instruction manual with assembly diagrams annotated in Japanese.
There is nothing I can recognise on Kozin's web page as giving a scale, but the model comes out a little smaller than the Mach III. Since all I read about this motorcycle suggests that it was a very large one, this implies that the model is at a somewhat smaller scale. However, the few measurements of the Z1300 that I have been able to find on the web suggest that this model is quite close to 1:8, so maybe the Mach III is in fact at a slightly larger scale than suggested. In reality I think that the original CGI model is simply eyeballed to look about right, so one can't expect too precise a scale.
I have made this model at my usual 50% size.