This Japanese site has several paper models of aircraft, and two motorcycles, with another in development (in February 2007). There are also some computer-generated graphics of the aircraft, and photographs of some plastic models.
The owner does give his name, along with other personal details, but unfortunately for me only in Japanese. My inexpert attempt to interpret the hiragana comes up with "kozou". However, the word "kozin" appears in the URL, and also on the front page of the instructions for the models, so this is what I shall use.
Designs are first done as a CGI model, and adjusted to look "right", with apparently not very much hard measurement. They are then automatically unfolded, and gluing tabs added by hand. This leads to some rather odd part shapes and awkward construction of the more complex components, but good fit once the problems are overcome.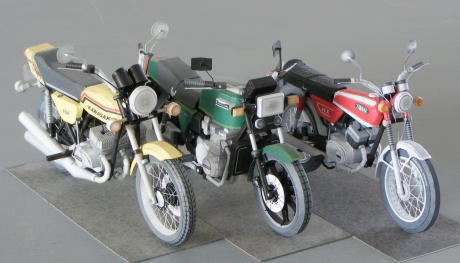 ---