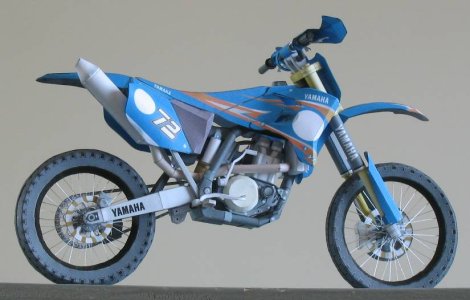 This model was released in November 2005. It represents the machine ridden by Stefan Everts to win the 2005 Motocross GP world championship, and to help secure the constructors' championship for Yamaha Racing.
This is quite a change from the road bikes modelled up to now, and made an interesting build. As always the design and fit is excellent. I chose to discard the paper "spokes", and make more realistic wheels using thread for the wire spokes. The result is quite acceptable I think.
The kit includes a stand to go under the engine to lift both wheels off the ground, though there needs to be some extra packing under the rear part of the frame in order to get the model to sit horizontally on this stand. You can see this packing in the photographs of the completed model in the assembly instructions, particularly in the right-hand side view. I have chosen to present the model on its wheels, as with my other Yamaha models, though I have used a dirt texture on the ground rather than a paved road.