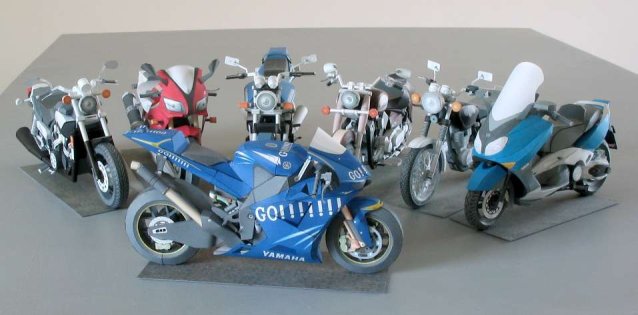 Yamaha started a series of "Realistic Paper Craft" in 1998, of motor cycles from their range of products. They are quite large, making models around 300mm (12in) long and 200mm (8in) high. Descriptions of the process of designing these models which have appeared in the past have implied that the models are not strictly to scale, but adjusted to give a convincing visual impression. Nevertheless, they appear to be close to 1:7 (though 1:6 is often quoted).
In order of original release the models are: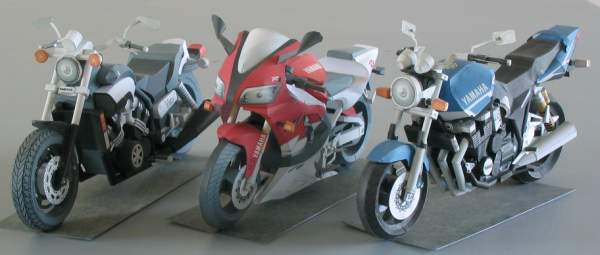 1. VMAX
2. YZF-R1
3. XJR1300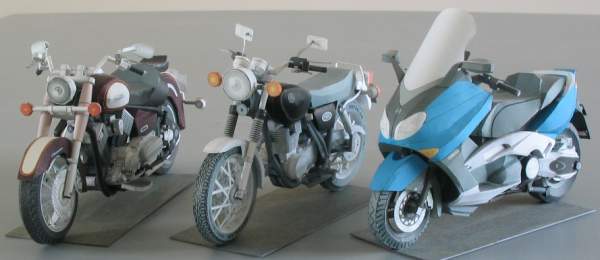 4. DSC11
5. SR400
6. TMAX

8. YZR-M1 Commemorative Livery
9. YZ450FM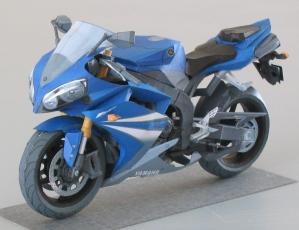 10. YZF-R1 2007
---
Ultra-Realistic Paper Crafts
In 2006, a new series of even larger-scale models (1:5.5) was introduced: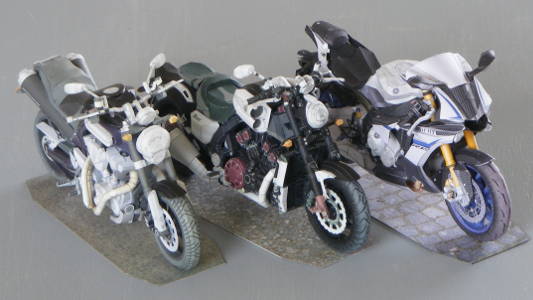 U1. MT-01
U2. VMAX
U3. YZF-R1M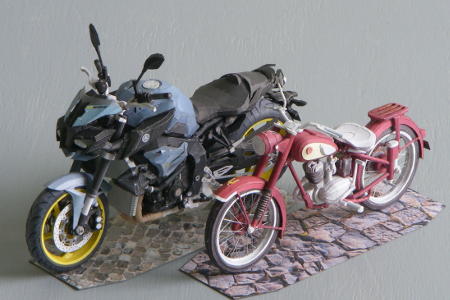 U4. MT-10
U5. YA-1
---
Motor Sports World
In 2013, a new series of scenes of motor sport was started, the first showing a Moto GP race with a new model of the YZR-M1. This is to the same scale as the "ultra-realistic" models, but with rather fewer parts. A further scene "Rally" came out in 2014, with two motorcycles - XT850R and YZ450F - associated with the Dakar Rally.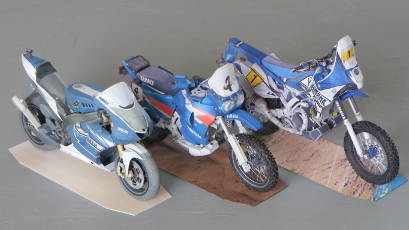 S1. YZR-M1
S2. XTZ850R
S3. YZ450F
---
In June 2018, just six months after the release of the YA-1 in prominent celebration of the completion of 20 years of the Yamaha Paper Craft web site, it was announced that they would close the site at the end of September 2018. Sadly this was carried through, and these models are no longer available from the official site.